by Riccardo Marotta
When we talk about writing, we usually refer to a set of words on a sheet of paper, but the expressive possibilities we can draw on are really many. Writing is always on the move: during the workshop, students are led to discover the "expressive dynamics" of their personality and the reality that surrounds them.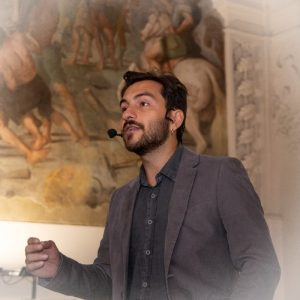 In fact, the Expressive Dynamics workshop aims to research every form of written, oral, corporeal, artistic expression tailored to each student, who can draw upon his/ her own inner world with no limits or constraints and let imagination go free. You can write with the body, with music, through images, with words or even with emotions: there are no limits to expressive freedom, except those set by freedom itself.
During the workshops, the young participants are guided to face the key points of the subjects proposed and learn to make them actual through the use of different languages. The teaching materials start from Literature, History, Philosophy, Poetry, to meet with contemporary forms of writing, such as song lyrics and rap songs.
The Expressive Dynamics workshop awakens creativity, strengthens the imagination, facilitates sharing with others, underlines the importance of failure as a stimulus to improve; makes students increasingly aware of their own path and offers them the opportunity to overcome their fears and to discover their own strengths and weaknesses.
Our students say...
Thanks to the Expressive Dynamics workshop, I realized that there is not just one way to communicate, but there are dozens of ways: with the body, with a metaphor, with a personification, with gestures. I also had a good time with the tutor and lab mates: it was an experience that I will remember for a lifetime. Thanks again! (Aurora Vitale, student)
I liked the writing workshop a lot, because we wrote a text about chaos and everything started from there: drawings, poems, songs, all our creativity and our tutor helped us a lot. We had a great time and we all felt at ease. (Giovanna Sannelli, student of the Liceo "G.B. Vico" of Laterza)
This workshop helped me to let my emotions out, although I am a rather shy person, who does not like to express herself in front of people I don't know. Thanks to Riccardo I'm learning how to do it! (Arianna Costella, student)